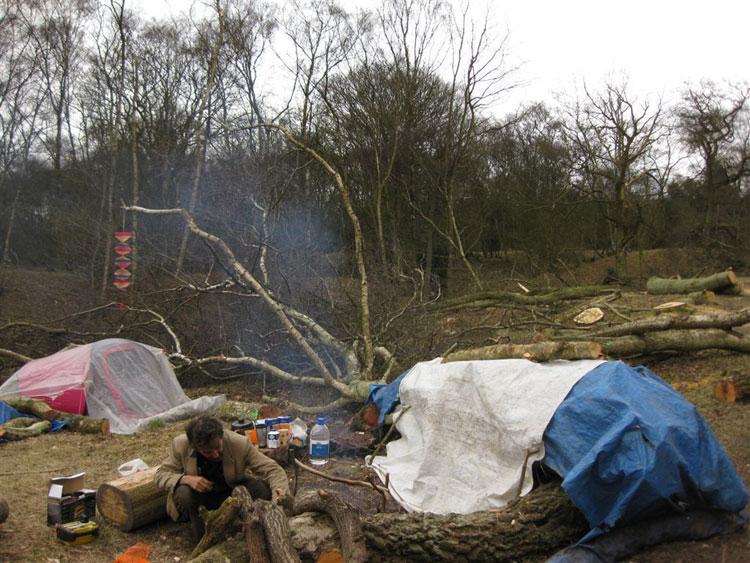 After discovering last week that many of the trees had already been felled signaling that work was due to begin imminently, West Midlands Climate Action and a coalition of local groups and activists last week swooped upon the Huntington Lane Surface Mine Site to claim the land. We've had a camp set up on the proposed open-cast site for about a week now. There's a communal sleeping area, fire pit, a wood store and plans for a lodge. Earlier today representatives from UK Coal visited the camp to find out our 'list of demands' and didn't seem pleased with the response, that we wanted them to call a halt to all open cast coal mining on this site!
We urgently need as many people to come down to the camp as possible.
Donations of all kinds are most welcome, whether it be time, money, materials or kind thoughts. Please see the wish list below for the 'most wanted' items on site and perhaps pop along and see us if you can.
The usual kind of stuff is needed:
Food (and teabags please)
Tarps – the bigger the better!
Tools of all kinds
Rope of all kinds
Fire bricks (for the sweat lodge!)
Stove pipe etc for a rocket stove
Compost toilets
Tripods
People
http://wmclimateaction.wordpress.com/2010/03/17/huntington-lane-camp-launched/
To keep up with all the latest news the camp now has it's own blog http://defendhuntingtonlane.wordpress.com/
We'll see you on site.