Summergathering 2023!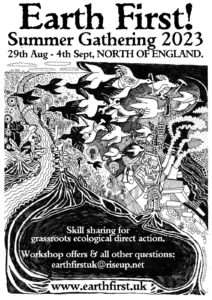 You're all warmly invited to the one and only Earth First! summer gathering 2023! This year's gathering will take place in the north of England, more details to follow!
Please spread the word and get in touch if you can get there early to help us prepare the site <3
Wintermoot update
We squatted a beautiful big old building in South Manchester for the Wintermoot this weekend! There will be some heating, and we will do our best to make our temporary home comfy, but please make sure to bring warm clothes, sleeping bags and mats. Please bring a camping chair if you have one too, and a mug/plate/cutlery!
And please don't forget to do a Covid test before you come, or take one at the entrance desk – we want to make this gathering accessible to people who are more vulnerable too. Solidarity!
For accessability request, please email us at earthfirstuk[at]riseup.net Are you already in Manchester and want to help out? Call us on 07424 703665
Address: 263 Wilmslow Rd, Rusholme, Manchester M14 5LN
Gateway opposite platt fields oark sign/closest to platt fields park bus stop A
53.4510866 – 2.2216731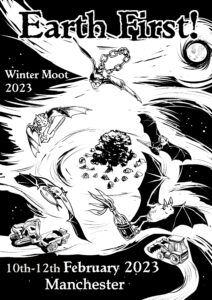 You are warmly invited to join us at the 2023 Earth First! winter moot!
What on (middle) earth is a moot?!? The moot is a chance to get together during the cold winter months to warm our hearts and put fire in our bellies. It's a time to reflect on what's going on in the radical ecological movement and make plans for the year ahead. There will be workshops, tasty vegan food, some music and dancing, and very likely shit homebrew cider 😉
For new comers and old timers alike, it's a space for anyone committed to taking aciton to defend nature. Join us!
The moot will take place in Manchester from 10-12 February. Everyone welcome from 4pm (get in touch if you want to come earlier to help set up), workshops start at 5pm. The last workshop will end at 5pm on Sunday. The workshop venue will be inside, heated. There will be sleeping space – just bring a mat and a sleeping bag! Workshops will cover everything from abolitionism, green anarchy, digital security, queer makeup, coal, and much more!
The exact location (in Manchester) will be announced that morning. It will be fuuuuuuun!
We will have a kids space and a vegan kitchen. We suggest a donation for food and camp of betwewen 225 and 50 pound for the weekend, but noone will be turned away for lack of funds. Questions? Email us at earthfirstuk[at]riseup.net
Bring your friends (can you fill up a mini bus?), and come up for a weekend of joy and green anarchy!
To protect each other, and especially those more vulnerable, please do a Covid test before coming up to Manchester. We will have some at the welcome desk too.
Love and rage!
What is Earth First!?
The general principles behind Earth First! are non-hierarchical organisation and the use of direct action to confront, stop and eventually reverse the forces that are responsible for the destruction of the Earth and its inhabitants. EF! is not a cohesive group or campaign, but a convenient banner for people who share similar philosophies to work under.
If you agree with the above and you are not racist, transphobic, or otherwise discriminatory, if you believe action speaks louder than words, then Earth First! is for you.
Love and rage!