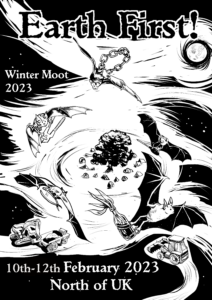 The general principles behind Earth First! are non-hierarchical organisation and the use of direct action to confront, stop and eventually reverse the forces that are responsible for the destruction of the Earth and its inhabitants. EF! is not a cohesive group or campaign, but a convenient banner for people who share similar philosophies to work under.
If you agree with the above and you are not racist, transphobic, or otherwise discriminatory, if you believe action speaks louder than words, then Earth First! is for you.
Save the date: the next winter moot will take place in the North of the UK from the 10th-12th of February. More info coming soon! Love and rage!