While "nuclear" feels so last century the reality could easily be the other way round, the with the 21st century seeing a whole phase of even more risky nuclear development, if a new wave of nuclear reactors is not stopped. With dwindling fossil fuel reserves and capital's demand for unending economic growth, it is all hands on deck to plug the growing gap between current energy sources and the exponential energy demands of the industrial system. Fracking, biomass and new nuclear are all being driven by the same underlying dynamic, which could easily see a proliferation of new reactors if there is no resistance.
Ground has already been broken at Hinkley Point in Somerset and plans are pushing forward at Wylfa on Angelsey, as well a number of other sites (see below for details). Beyond the russian roulette being play with the lives of people living anywhere near these new reactors, as amply demonstrated by accidents such as Fukashima and Chernobyl, the long term ecological threat posed by the continual production of even more radioactive waste to which there is no practical long term solution to contain it, when it will remain deadly for hundreds of thousands of years.
New Nuclear Threat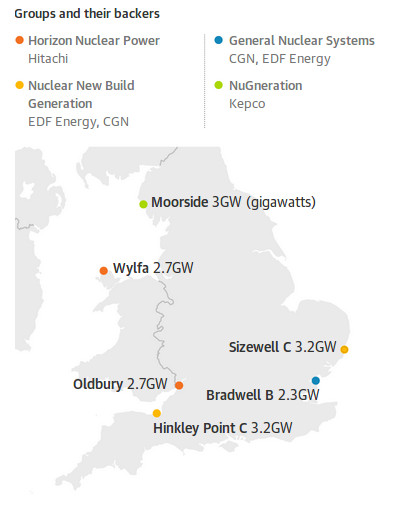 The UK's current fleet of nuclear reactors is ageing fast with the last new reactor built in 1987 and most reactors are either already shut down (Magnox) or well past their design life (AGR). The nuclear industry needs new reactors soon or it will cease to exist. While nuclear power has never made any sense from an economic perspective, and the unknown eventual cost of dealing with the waste make that even worse, its links to nuclear weapons production have so far sustained it. Current plans call for new reactors at 6 sites: Hinkley Point in Somerset, Wylfa in Anglesey, Sizewell in Suffolk, Moorside in Cumbria, Oldbury in Gloucestershire and Bradwell in Essex (see below for details).
These planned new reactors are in general more dangerous than previous ones, due to the lower level (though still large) of government subsidies available in the current climate requiring them to be more commercial. These more "efficient" reactors have higher burn up rates (amount of energy produced per ton of uranium), up to 65 GWd/tU for planned EPR and AP-1000 reactors, compared to 4.1-33 GWd/tU for previous Magnox and AGR reactors. This will produce hotter, more radioactive spend fuel (high level waste) and make accidents such as Fukashima and Three Mile Island, which involved loss of cooling to fuel in the reactor or in cooling ponds, more likely and more dangerous.
Attempts to make nuclear reactors even more commercial (i.e. dangerous) are also on the cards. The extremely high capital costs of existing and planned reactors is driving a push towards exploring ways of creating smaller reactors which could be produced in large numbers in factories and installed wherever. While these reactor are likely to be much less efficient in operation than larger reactors, massive cost savings are envisaged in the permitting and construction of these reactors. There is also an existing industry making small nuclear reactors for military submarines which can see an opportunity to expand. Obviously the dangers posed by producing large numbers of small nuclear reactors and scattering them across the country wherever they can be forced on communities, are too numerous to mention.
Hinkley Point, Somerset EDF Energy has begun construction of Britain's first new nuclear plant in a generation in Somerset and aims to start up the reactors from the £20 billion project in 2025. The new power station would would be powered by 2 x 1,630 MW European Pressurised Reactors (EPR), a new untested design, whose primary aims is to provide enhanced economic competitiveness through design changes like higher fuel burnup rates. The first EPR reactor was brought online on the 29th June 2018 at the Taishan plant in China, despite reports of numerous serious problems with the reactor. Two other plants are under construction at Olkiluoto in Finland and Flamanville in France, and are both facing costly delays due to severe problems. Campaigns: Stop Hinkley, South West Against Nuclear (Facebook)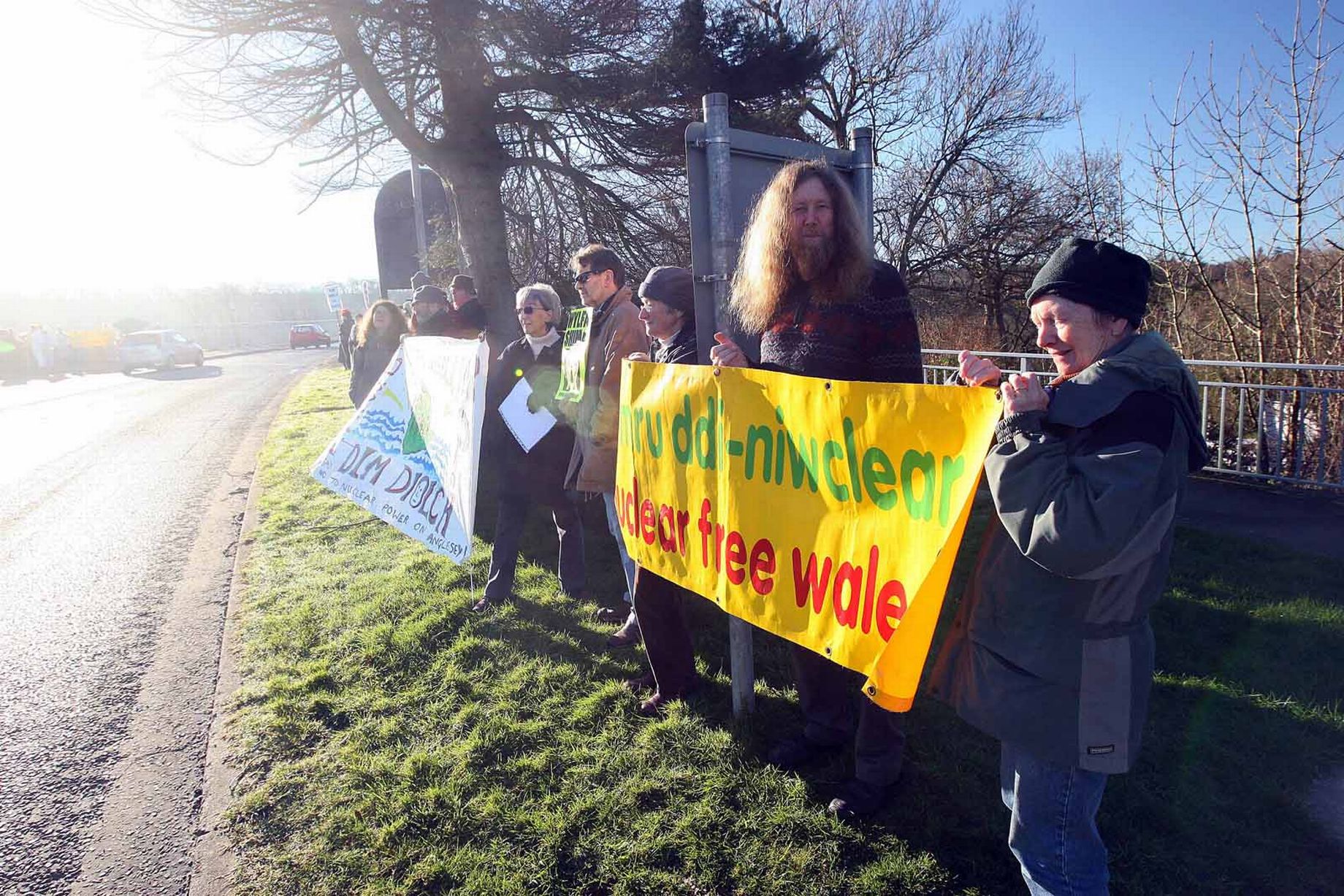 Wylfa, Angelsey Horizon Nuclear Power (Hitachi) is planning to construct 2 x 1,350 MW Advanced Boiling Water Reactors (ABWR) at Wylfa on Angelsey. As with the EPR reactors planned at Hinkley these ABWR reactors would have a high burnup rate up to 65 GWd/tU. The reactors are planned to be online by 2026-27 but the project needs to get over a number of hurdles first. Campaigns: People Against Wylfa-B (PAWB), Stop Wylfa – No Nuclear in Wales (Facebook)
Sizewell, Suffolk EDF Energy is planning a similar plant to Hinkley Point C at Sizewell in Suffolk, in collaboration with China General Nuclear Power Group (CGN). The plan is to use 2 EPR reactors and . Campaigns: Shut Down Sizewell Campaign, Together Against Sizewell C, Together Against Sizewell C (Facebook), Theberton and Eastbridge Action Group on Sizewell (TEAGS)
Moorside,Cumbria The developer NuGeneration is in process of begin bought by South Korea's Kepco, and the reactor design (APR1400) Kepco would want to use is not approved in the UK at present. The expected completion date of this £15-20 billion project has been pushed back to "later in the 2020s". Campaigns: Stop Moorside and Nuclear Dumping in the Lake District (Facebook)
Oldbury,Gloucestershire Horizon Nuclear Power (Hitachi) is planning a similar plant to Wylfa at Oldbury in Gloucestershire. The plant would use the same ABWR reactors but the project is at much less advanced stage. Campaigns: STAND – Severnside Together Against Nuclear Development, Severnside Together Against Nuclear Development (Facebook)
Bradwell, Essex China General Nuclear Power Group (CGN) and EDF are planning a plant at Bradwell in Essex using CGN's HPR1000 reactor. The HPR1000 has not yet been licensed for use in the UK and the development could take some time. Campaigns: Blackwater Against New Nuclear Group (BANNG), Blackwater Against New Nuclear Group (Facebook)
Nuclear Waste
As for where all the radioactive waste produced by these new reactors would go, given that no solution exists to this problem, that is anyone's guess. Geological Disposal, burying waste in the ground and hoping for the best, is the leading contender but will require forcing some region to take this waste. And apparently no where is safe with even National Parks and areas of outstanding natural beauty (AONBs) in the firing line. In fact given that National Parks tend to have lower population densities than other areas, they are a likely target.
While geological disposal may sound like the best of a bad set of options, the reality is that these projects are more about public relations than a real solution. As long as some geological disposal project is being discussed, the fiction that there will be a solution at some point in the future can be maintained and some objections to nuclear "business as usual" can be avoided. Cut price geological disposal in the form of deep borehole disposal, which would involved injecting waste down deep boreholes, is also being discussed. As with the disposal of fracking waste by this method in the US, earthquakes are one likely result and the probability of the waste remaining contained for hundreds of thousands of years is pretty low.
The only geological disposal facility in existence, on the uninhabited island of Onkalo in Finland, is planned to start burying nuclear waste in 2020 and continue until 2120, when the facility is supposed to be sealed and abandoned. The probability that this 100 year long project will be carried through to completion and sealed to plan in the face of a declining resource base, austerity, recessions, wars, bankruptcies and other unforeseen events bound to take place in the next 100 years, seems slim to non-existent. Even if you were optimistic enough believe in the generally promise of geological disposal, successfully implementing it would demand stopping the tidal wave of new waste from existing and new reactors as soon as possible, so disposal could be completed on realistic timescales.
More Information