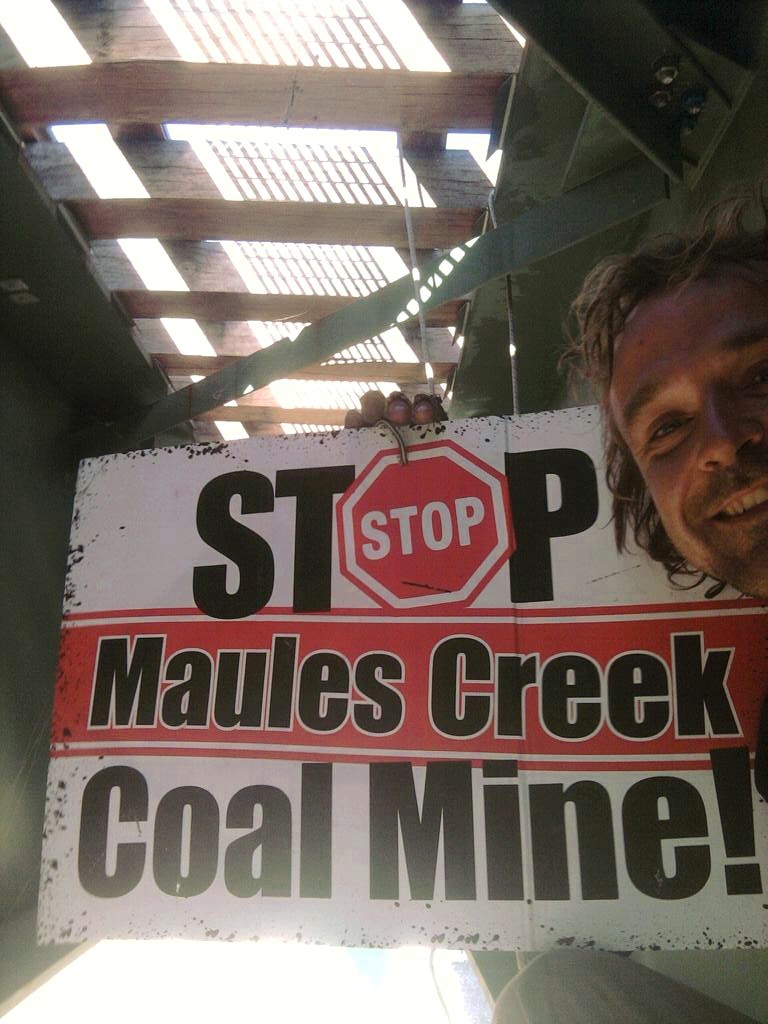 No "Coal for Christmas" as Whitehaven Coal Disruptions Continue in New South Wales
from Frontline Action
MAULES CREEK, 24 December 2014: A man has suspended himself from a rail bridge crossing the Namoi River blocking a coal train being loaded at Whitehaven Coal's controversial Maules Creek mine from leaving the site. The train blocked at the Maules Creek mine is believed to be the first containment of coal from the site after a test train – twice disrupted by activists – left the site last week. The rail bridge also services Idemitsu Resource's Boggabri Coal mine.
Ben Solity, a 31 year old logistics consultant, cited deep concerns about the impact the mine will have on water and the climate, saying, "Farmers need water to continue to put food on our tables – so why are companies like Whitehaven allowed to take it with preference over farmers? Farmer's jobs are only going to get harder for them as the effects of climate change driven by coal takes hold. Why are our governments selling out our water and our climate for a quick buck when food security is at stake?"
Leard Forest Alliance spokesperson Phil Evans said, "Australians do not want coal for Christmas – and Whitehaven are trying to sneak it into their stockings whilst everyone is distracted. Just more slimy behaviour from this disgraced company – and project – that has seen Australians lose faith in mining approval processes in this country."
"We need a stop to this farce immediately – stop work and then have a good long, hard look at how successive NSW governments, embroiled in mining related corruption, have allowed the Maules Creek mine approval to stick."
Both Whitehaven Coal's Maules Creek and Idemitsu's Bogggabri mines have approval to expand into the critically endangered Leard State Forest this February – sparking this warning from the protest group.
"They have a battle on their hands if they think local farmers, traditional custodians and concerned citizens are going to allow this wholesale destruction. The forest, water, climate and culture are all too precious to lose – and we won't take this lying down."
The Leard Forest Alliance is a group made up of local farmers, prominent environmental groups with a treaty of protection with the Gomeroi traditional custodians of the area. Over 300 people have been arrested since the campaign began over 2 and half years ago.
UPDATE 09:00: Regular police have arrived – no Police Resuce yet. Ben remains in place.
UPDATE 14:30: Ben has just unfurled a banner reading "Whitehaven Coal – No Water – No Future"
UPDATE 16:15: Police Rescue have arrived on site.
UPDATE 16:35: Police Rescue are trying to get to Ben with a Cherry Picker supplied by Whitehaven Coal.
UPDATE 17:00: Ben says Police Rescue are taking apart the bridge to get to him!
UPDATE 18:30: Police Rescue have begun to cut off the now locked on Ben.
UPDATE 19:30: Ben has been arrested and taken to Narrabri Police Station after 13 hours.
Further Information:
Phil Evans, Leard Forest Alliance Spokesperson, 0490 064 139
Twitter updates @FLACCoal and #LeardBlockade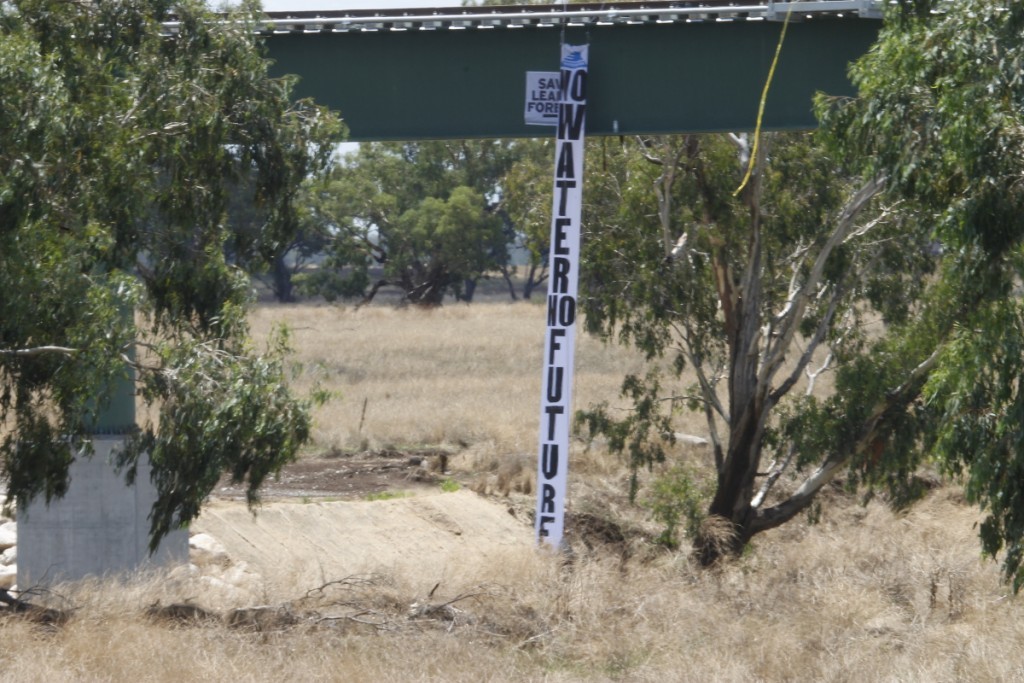 December 16th, 2014
Protest Halts First Coal Train from Maules Creek Mine
from Front Line Action on Coal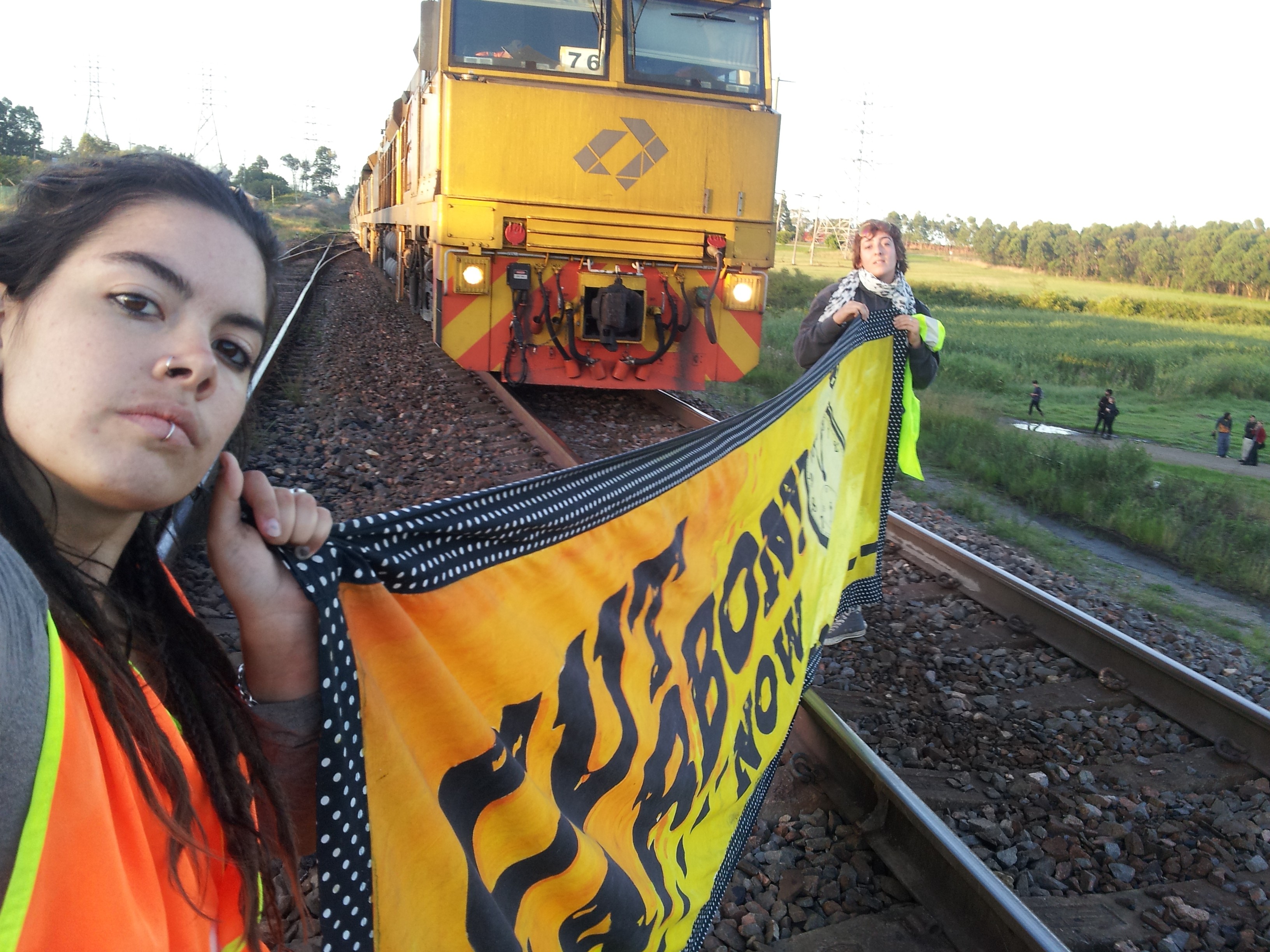 Newcastle, Australia 15 December: A peaceful blockade has halted the first train load of coal coming from the controversial Maules Creek coal mine on its way to Newcastle's Kooragang Island coal export terminals this morning.
A group of 22 people met the train this morning. Eight people have occupied and stopped the train and are refusing to leave.
The train was stopped during the night and delayed for over 6 hours by a protestor who locked onto locomotives needed to push the coal over the Great Dividing Range. The 58 year-old protestor, Bruce, from Northern Rivers, has been arrested. Speaking about why he took action, Bruce said:
"Australia's response to climate change is headed completely backwards. "If we can stop this new coal mine we set a precedent for the rest of Australia to stand up."
Jonathan Moylan from Frontline Action on Coal said, "Over the last twelve months, hundreds of people have been arrested slowing down construction of the Maules Creek mine. The fate of our country, and people everywhere, depends on coal being left in the ground. In the absence of leadership from the industry or the Government to shut down coal exports and prevent dangerous climate change, ordinary people have taken extraordinary action to stop this mine.
"A growing number of people are standing up to the coal industry's plans to ship increasing volumes of coal and fuel dangerous climate change. Doctors, people of faith, IPCC scientists and earlier this month, former Wallabies captain David Pocock, have all taken action to halt construction at Maules Creek. Even Malcolm Fraser last week tweeted about Maules Creek, referring to the coal sector as an 'industry of a past age'.
Local Newcastle mother, Vanessa Wiebford said, "I want my daughter to have a future without the horror of extreme heat and fire, and uncertain water and food production. I am bitterly disappointed in Australia's political leadership and their unthinking support for expanded coal exports at a time when we're already seeing alarming signs of dangerous climate change.
"If they're not going to act to prevent this, then all parents have a duty to risk arrest to try and stop it ourselves.
2014 is now expected to break the record as the hottest year in Australia's history. Heatwave conditions were observed in many parts of the country during our hottest spring on record this year, and the Bureau of Meteorology is predicting a return to El Nino conditions at a time when much of Queensland and parts of New South Wales are already drought declared.
The burning of coal exported from Australia is this country's biggest single contribution to climate change, and production and export of coal increased in the last 12 months.
"With the international climate negotiations in Lima failing to deliver the scale of action needed, people around the world will next year have to take their future into their own hands like never before. Ordinary people are stepping up to do what it takes to stop the fossil fuel industry's dangerous expansion plans," said Moylan.
UPDATE 6:00 am: Coal train is stopped.
UPDATE 8:15 am: The five activists have been lower from atop the coal wagon by police.
UPDATE 9:00am: The coal train starts moving again after 3 hours at a stand still.
UPDATE 12:30pm: Four activists released after being processed at Waratah police station.
Media Enquiries
On the ground: Jonathan Moylan: 0431 289 766 | Vanessa Wiebford: 0409 021 976
Off-site: Charlie Wood: 0427 485 233
Photos Available at: http://bit.ly/13nps8U