Summergathering 2023!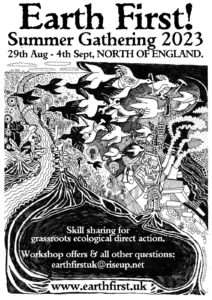 You're all warmly invited to the one and only Earth First! summer gathering 2023! This year's gathering will take place in the north of England, on a beautiful squatted piece of land. If you want to book train tickets, aim for Carlisle for now – a more specific location will be announced on th 29th. We'll get going on the 29th, with setup and workshops. There will be delicious food by Veggies kitchen, a kids' space and soooo many exciting workshops. We can't wait!
Please spread the word and get in touch if you can get there early to help us prepare the site <3
For workshop offers and questions about accessability and anything else – please email earthfirstuk (at) riseup.net!
What to expect when you arrive
A welcome tent with people in to give you a warm welcome and tell you about the site, where the loos are, where to camp, things you can get involved with straight away, and take donations for the cost of the camp (£0-50), and the meals each day (£0-10/day). Depending on how early you arrive, marquees will be rising or risen for workshop spaces, people will by scurrying about on missions to build or clean compost toilets, find that hammer that disappeared, painting signs, chopping vegetables for the next meal, whisper-planning a secretive action, having loud political debates with someone they've just met… or having some quiet time with a book in a corner of some marquee. No one is in charge. We are all crew here, putting collective living into practice, creating a tiny transient vision of the world we want to create and defend. The more you participate in this camp, the more you will get out of it.
But what the f*** is it, really?
The EF! gathering is a gathering of like-minded people interested in ecological direct action, green anarchy, and radical ecological politics. It includes 6 days of camping, 3 vegan meals a day, a programme of workshops and activities and discussions. There will be some music, dancing, and storytelling around the fire. We'll have some spaces for communal eating and chilling, and to stay dry in case it rains. But feel free to bring additional tarps! Don't expect luxaries, but there will be compost loos and some kind of washing facility. Remember, this is a sqatted site, so there might be some police interaction. If you have any concerns, get in touch!
What to bring
Bring your own cutlery, a plate and a mug, and everything you might for a camping trip, such as a tent, sleeping bag and mat, warm clothes, waterproofs, headtorch, and wellies!
Get in touch
The site phone will be on from the 29th, number will be on here. More info will be posted on here soon. For any questions, emails us at earthfirstuk (at) riseup.net